Homeowner's Handbook to Prepare for Coastal Natural Hazards (Revised 2018)
Available to Help Texans Prepare for the Next Storm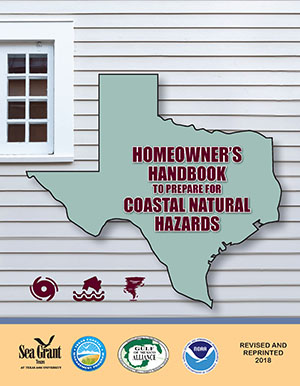 Since Hurricane Harvey, Texas Sea Grant staff have distributed over 8,000 copies of the Texas Homeowner's Handbooks!
This handbook was created to help Texans prepare for natural hazards and help them reduce the risks to lives and property. Although it is never possible to eliminate all risk from a natural hazard, homeowners can take action and implement many small and cost-effective steps that could significantly lower their risk and exposure to those hazards.
The handbook discusses:
The publication was produced through a partnership with the Gulf of Mexico Alliance, the Texas General Land Office, Texas Sea Grant, and the U.S. Environmental Protection Agency and National Oceanic and Atmospheric Administration. It was modeled after a similar publication produced by the University of Hawai'i Sea Grant College Program.
For a print copy, contact sgpublications@seagrant.tamu.edu
Brought to you by Texas Sea Grant.