Retrofitting an Existing Home
When retrofitting an existing home, you should consult with a licensed structural engineer or architect. The structural engineer can go over the costs and benefits of installing the following common retrofit options:
Roof-to-wall and wall-to-foundation connections,
Hurricane clips only without additional foundation connection, or
Stronger connectors than those required in the current building code.
Concepts regarding the roof-to-wall connection are covered on the Creating the Wind- and Rain-Resistant Structural Envelope page. A properly selected hurricane clip is required for each rafter. In addition, the rafters at gable end eaves should be strapped down. Exterior beams supported by corner columns also require strap down. For houses with post-and-beam roof construction, fasteners should be for roof rafter to roof beams, top of post to horizontal ridge beam, and post to beam connections located at the exterior wall.
You should seek a licensed structural engineer or architect to select the proper connectors and nails for your house. You can then do either all or part of this work yourself, or hire a licensed contractor.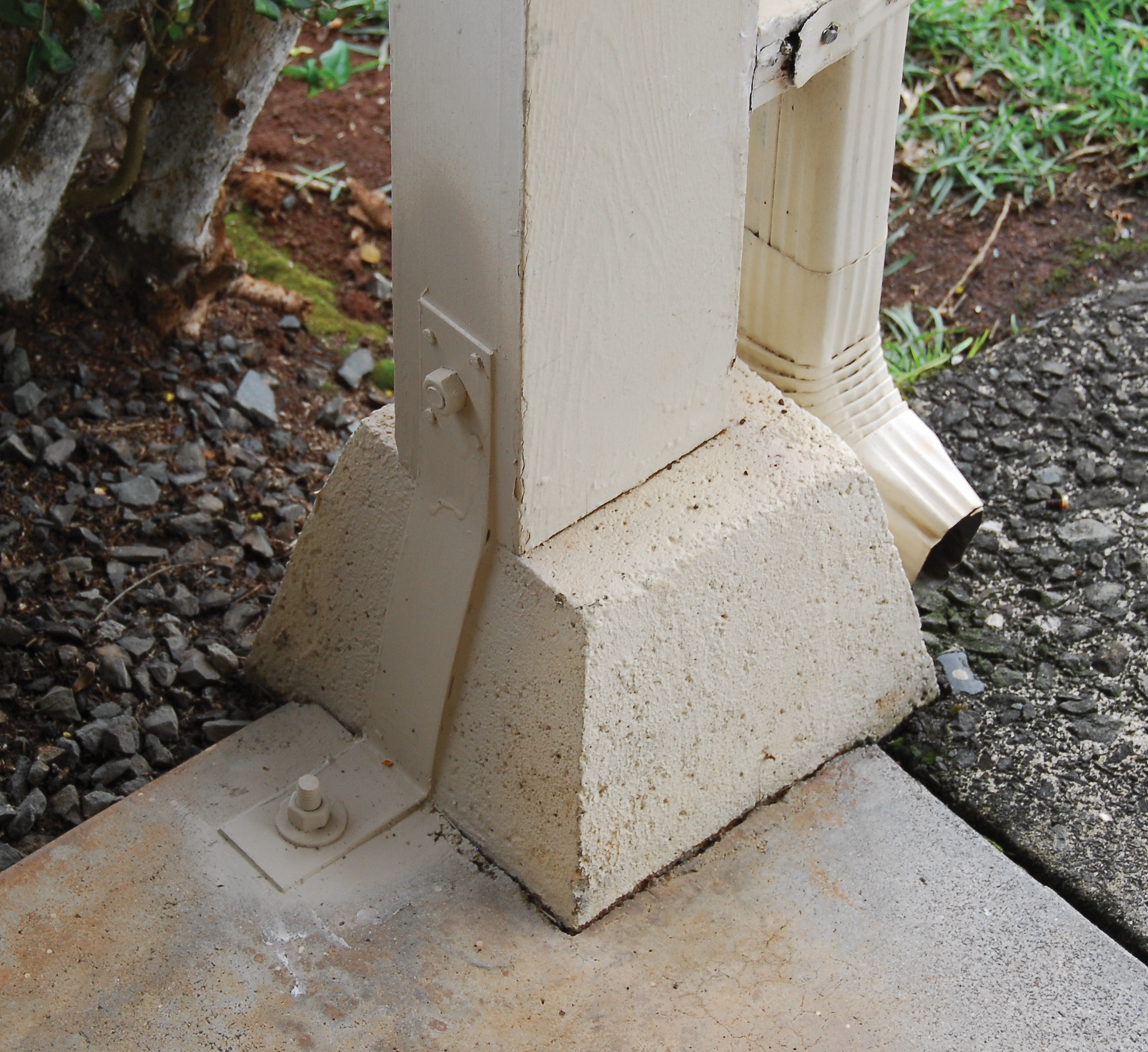 Figure 4-24. Example of Retrofitting. Here, a metal strap connects the vertical post to the foundation, which finishes the continuous load path from the roof to the foundation.
Source: Hurricane Protection Services.
The wind from a hurricane attacks any weaknesses in the roof. Once a weakness is exposed, adjacent areas can be more easily damaged and peeled away. Thus, strengthening the roof is important and it should be considered for new construction and when a roof is replaced after its expected life. The roofing option involves installing a continuous structural sheathing (for example, plywood where it is missing or damaged). Additional fasteners and a secondary waterproof membrane are required. You should seek a licensed roofing contractor to do this work.
As a side note, there are small things you can do to strengthen the roof even if is relatively new. For example, if you climb in your attic and see nails that are supposed to attach the plywood sheathing to the truss have missed the truss, then you have found what could be a structural weakness. The joint can be strengthened with a wood epoxy or the application of closed cell foam insulation.
Foundation Uplift Strengthening Restraint
Strengthening the foundation to resist uplift will generally require the removal of interior finishes. The installation of uplift connections should be planned by a licensed structural engineer and only after they have inspected the home to understand materials and methods used to construct the home and have calculated the uplift requirements.