Emergency Supplies for the Home
The general rule when preparing for a hazard event is to be self-sustaining for a minimum of 72 hours.
Depending on the severity and impact of the event, basic supplies may be unavailable or inaccessible for several days thereafter. If you are sheltering in place or returning home while utilities are still disrupted, one to two weeks' worth of supplies is advised. If the space is available and the house is well-protected, stocking up is worthwhile. Items should be checked monthly to ensure they are fresh; do not keep expired supplies.
Emergency supplies should be assembled as soon as possible; do not wait until an emergency to gather supplies.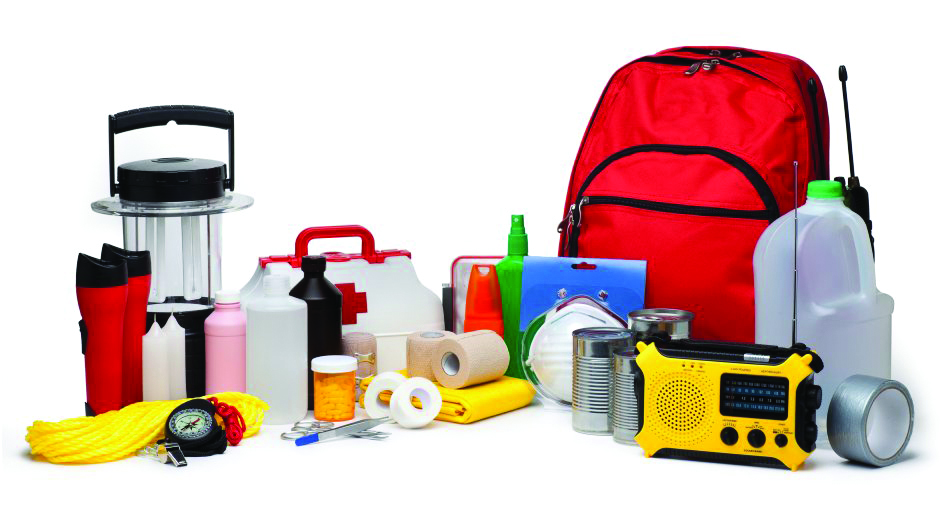 Emergency supplies should include at least the following:
Food
Non-perishable food – dry or canned goods, snacks
Manual can opener
Paper plates, plastic utensils, cups, etc.
Baby food, formula, and bottles, if needed
Water
Supply: 1-2 gallons per person per day for drinking, cooking, and hygiene. Remember that children, nursing mothers, the elderly, and sick individuals require more water.
Storage: Large, reusable containers should be well-rinsed and filled prior to the storm. Empty 14- or 15-gallon barrels can also be purchased online.
First Aid and Sanitation Items
General first aid kit – bandages, aspirin, coldpacks, etc.
Special medications and a list of prescriptions
List of physicians providing care for specific or chronic health conditions
Personal hygiene items, toilet paper, feminine products, and diapers, as needed
Disinfectant, hand sanitizer
Sunscreen, bug repellant
Other Items
Cell phone and charger
List of emergency telephone numbers, in case cellphones are not working
Extra cash, since ATMs may not be working
Flashlight and extra batteries
Portable radio or a NOAA all-hazard weather radio, with extra batteries
Matches and a lighter
Copies or electronic back-up of important documents, including driver's license, social security card, proof of residence, insurance policies, deeds, birth and marriage certificates, and medical records
Bedding and clothing (including rain gear) for each person
Paper and pencils
Games and books for children
Pet supplies and documentation (vaccines, microchip number, etc.)
Waterproof plastic sheeting or tarp, adhesive tape, and rope
Alternate power supplies: inverters, power stations, generators (with gas tanks if needed)