Protecting your property from flooding can involve a variety of actions, from inspecting and maintaining the building to installing protective devices. Most of these actions, especially those that affect the structure of your building or its utility systems, should be carried out by qualified maintenance staff or professional licensed contractors. The most important information to know about your home when considering flood prevention techniques is the base flood elevation (BFE) shown on the Flood Insurance Rate Map (FIRM) for your community.
One way to protect a structure and its contents from flood damage is to seal the building so that floodwaters cannot enter. This method, referred to as "dry floodproofing," encompasses a variety of measures:
Applying a waterproof coating or membrane to the exterior walls of the building.
Installing watertight shields over doors, windows, and other openings.
Anchoring the building as necessary so that it can resist flotation.
Installing backflow valves in sanitary and storm sewer lines.
Raising HVAC and electrical system components above the flood level.
Anchoring fuel tanks and other storage tanks to prevent flotation.
Installing a sump pump and foundation drain system.
Strengthening walls so that they can withstand the pressures of flood waters and the impacts of flood-borne debris.
Building with materials that can withstand flood waters for at least 72 hours (examples: concrete, ceramic tile, pressure-treated lumber, steel, metal, brick, epoxy paint, foam, and closed cell insulation).
Ensuring wells are properly constructed to avoid contamination from flood waters.
Keep these points in mind when you dry floodproof:
Dry floodproofing is appropriate primarily for slab-on-grade buildings with concrete or solid masonry walls. Concrete and masonry are easier to seal, more resistant to flood damage, and stronger than other conventional construction materials.
If you dry floodproof a "substantially damaged" or "substantially improved" building (as defined by the National Flood Insurance Program [NFIP] regulations) or a newly constructed building, and if the building's lowest floor (including any basement) is below the BFE shown on the FIRM map for your community, your dry floodproofing must be certified as providing protection from the BFE. To obtain this certification, you must floodproof your building to a height at least 1 foot above the BFE. Check with your local floodplain manager or building official for more information.
The height of your dry floodproofing should not exceed 3 feet. The pressures exerted by deeper water can cause walls to buckle or collapse. Before you use dry floodproofing to protect against greater flood depths, have a structural engineer evaluate the strength of your walls.
If your dry floodproofing measures require human intervention before flood waters arrive, such as placing shields over doors and windows, you should have an operations and maintenance plan that describes all the actions that must be taken and lists the persons who are responsible. It must also include a schedule of periodic maintenance that states how often the dry floodproofing measures will be inspected and who will perform the inspections.
The cost of individual dry floodproofing measures will vary with the size, condition, and use of your building, the dry floodproofing height, and the extent to which you use contractors and engineers.
In many cases, flooding on a property can be caused by poor drainage. If this is the case, it may be of great benefit to address the drainage issue with the professional advice of a licensed civil engineer.
An excellent source of information for protecting your property from flooding is FEMA's Coastal Construction Manual. 
Elevating Existing Structures
Elevation Certificates are required for new construction and substantial improvements to existing structures within Coastal V-Zones and other floodplain areas; the forms demonstrate a structure's compliance with local floodplain ordinances. It is recommended that a structure be surveyed by a registered professional after major storm events or when purchasing a home in a Coastal V-Zone. The elevation certificate needs to be completed by a registered professional land surveyor, engineer, or architect to ensure that all elevations and requirements are met per the community's flood damage prevention ordinance.
The lowest floor elevation of a structure that is new or substantially improved (where repairs are 50% or more of the market value of the structure) must be at or above the BFE. Any area below the BFE in a Coastal V-Zone can only be used for parking, storage, or access. The area below the base flood level must be free of obstruction, and any enclosure must be made of breakaway walls. In Coastal V-Zones, a breakaway wall certification letter may be required. FEMA's publication Free-of-Obstruction Requirements (Technical Bulletin 5) provides more information on building and protecting homes located in Coastal V-Zones. When constructing in V-Zones, elevation is the single most important factor in reducing the risk of flooding. Major storms and flash floods can cause waters to rise higher than the BFE; therefore, it is always a good investment to build in a safety factor that is several feet above the BFE.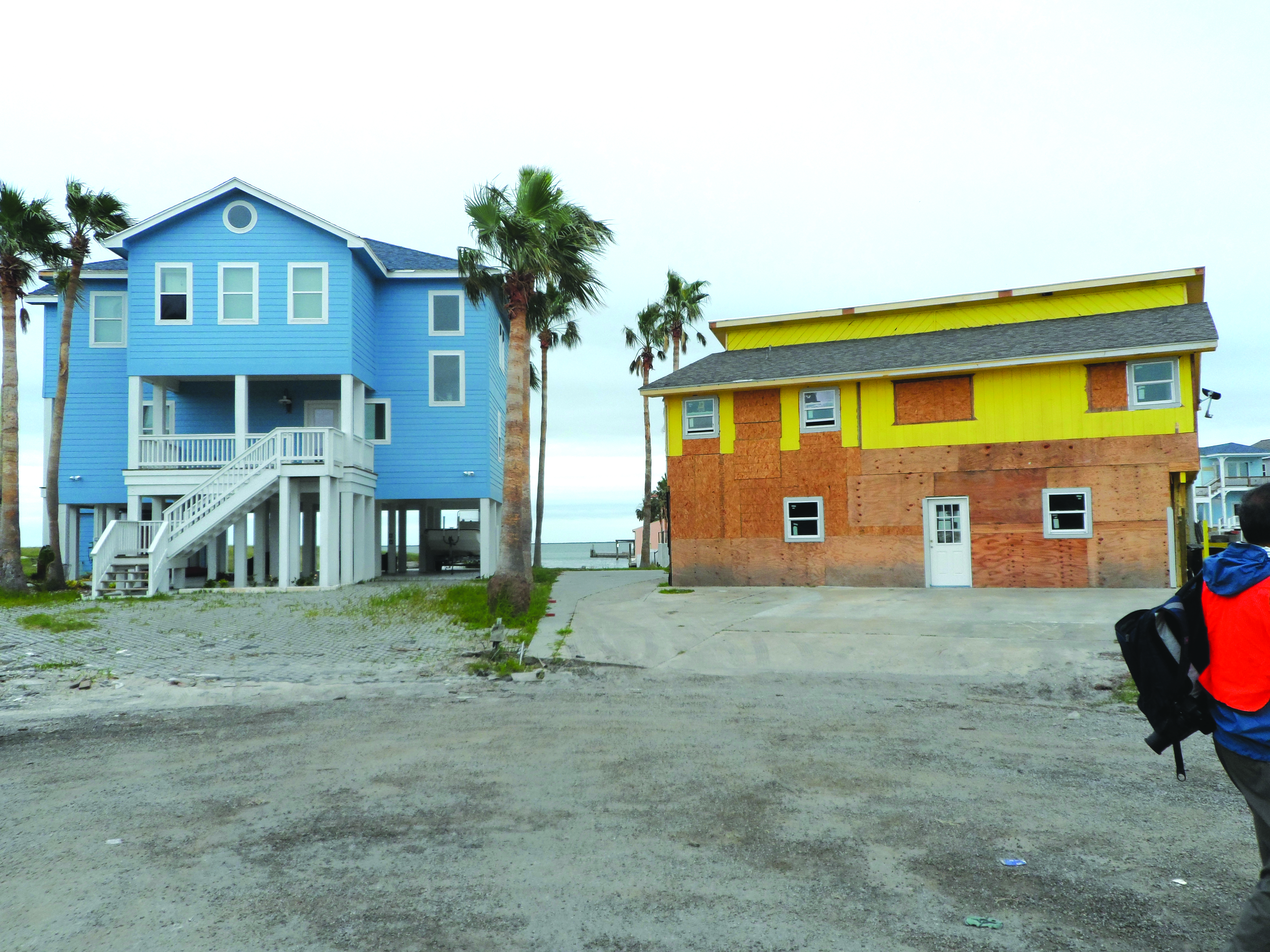 Figure 4-22. Two Neighboring Homes in Aransas County after Hurricane Harvey. The elevated house on the left received no damage, while the at-grade house on the right has been boarded up due to extensive damage.
Source: Texas Sea Grant
Even if you are not in an official flood zone, you may be at risk from flooding. You can go to the FloodSmart website and type in your street address to determine a very general estimate of the flood risk for your property.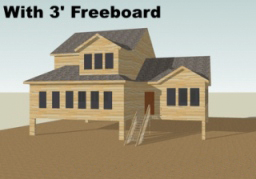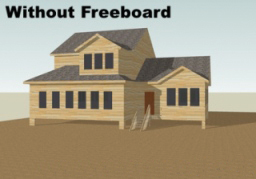 Figure 4-23. The house on the left is elevated with freeboarding. The house on the right is elevated at the minimum requirement.
Source: FEMA
For those properties located within a flood zone, elevating a building's lowest floor above predicted flood elevations by a small additional height (known as "freeboard") has very little effect on the look of a home yet can lead to substantial reductions in damages caused by flooding as well as reductions in flood insurance premiums (Figure 4-23).
FEMA has several other tools and resources designed to help citizens build safely and cost-effectively in the Coastal V-Zone, including the Home Builder's Guide to Coastal Construction fact sheet series (FEMA P-499) and Recommended Residential Construction for Coastal Areas: Building on Strong and Safe Foundations (FEMA P-550, second edition).